Letham4All Community Bus is available for any non-profit organisation to be used to the benefit of the community.
The minibus can transport 16 passengers and is fully accessible, with a wheelchair lift and can be configured to take 2 wheelchairs if required.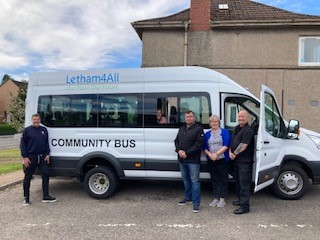 To drive the minibus, drivers must hold the D1 category on their licence or hold a valid Driver Certificate of Professional Competence (CPC) and have no more than 6 penalty points on their licence. There are some formalities that groups and drivers will need to agree to before using the bus, but it is straightforward. Volunteer drivers need to agree to have a license check and will have to take part in a vehicle familiarisation session before they take the bus out for the first time.
Non-profit and community organisations will need to agree to a Conditions of Use agreement (downloaded from this page)  along with information about the requirement for drivers, Letham4All can now offer volunteer drivers the opportunity to gain their Minibus Driver Awareness Scheme (MiDAS) certificate. MiDAS is a nationally recognised standard for the assessment and training of minibus drivers. The scheme is designed to enhance driving standards and promote the safe operation of minibuses, giving volunteer drivers with a D1 on their licence confidence in their ability to drive a minibus.
If you are a local community group who is interested in finding out more about accessing our minibus or taking part in MiDAS training, please email minibus@letham4all.org.uk or call 01738 444061.
Please note individual private drivers, not driving on behalf of a group, will not be able to use Letham4All Community Minibus.